Fabulous Fish (Class RG)
Welcome to Fabulous Fish (RG)
Our teacher is Miss Gough. Our teaching assistants are Miss. Jockins and Mrs Lancaster.
Spring Term
Week of 03/03/2019: RG have had a very busy week this week. On Tuesday we wrote instructions "how to make a pancake" then made pancakes and had a go at pancake tossing. On Thursday we celebrated world book day. We enjoyed learning about a new book "Tuesday" by David Wiesner. We all dressed up as frogs just like in the story.
Week of 03/03/2019: RG love phonics and guided reading. We do it every single day!
Week of 11/02/2019: RG had a fantastic day at Croxteth Park on their winter walk. We noticed that all of the leaves on our favourite tree had gone. To warm up we had a hot chocolate before going to play amongst the trees. We had a lovely picnic for our lunch and finished off our day playing on the slides. We are already looking forward to our spring walk.
Week of 11/02/2019: RG working hard practising their letter formation
Week of 04/02/2019: Writing our tricky words during phonics
Week of 04/02/2019: RG celebrated Chinese New Year by making Chinese lanterns and decorating dragons. We had great fun reading "The Story of Nian" about a strange and ugly beast who lived in the mountains. The beast is scared of loud noises and the colour red. So decorate your doors red and bang your drums!
Week of 28/1/2019: The children in RG have been learning the story of Little Red Riding Hood using the Talk For Writing approach. Today we made cakes for Little Red Riding Hood to take to Grandma's house.
Week of 28/01/2019: Practising their handwriting and letter formation on National Handwriting Day
Week of 21/01/2019: Ordering Numbers
Autumn Term
Fabulous fish at Christmas time
Christmas stay and play with Fabulous Fish
Fabulous Fish enjoyed a beautiful autumn walk.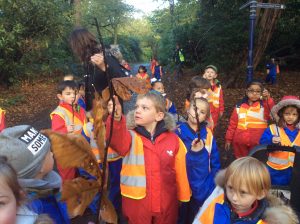 Fabulous Fish have been creating patterns and learning about their senses.
Fabulous Fish having fun.