Welcome to Reception classes RH, RHG and RMG.
Our class teachers are Mrs. Hodgson, Ms. Gough and Mr. Graham.
Our teaching assistants are Ms. Corrigan, Mr. Dunn, Mrs. Morris, Mrs. Cox, Mrs. Parr and Mrs.Jones.
                       Class RH                                                                   Class RHG                                                      
                        Class RMG
Summer Term 2018 

RHG had a fun time on their summer walk to Croxteth park.
It looks like RH did too!
RHG has Spain in the world cup so they have been learning lots of things about Spain.
RMG has Poland in the world cup and asked some Polish parents to read a story in Polish, teach us some words and even learn a traditional Polish dance.
RMG had a lovely time on their summer walk to Croxteth park.
The children have been enjoying the strawberries they grew in our edible garden.
Reception children were delighted when they each received an invitation to a party to celebrate the royal wedding of Prince Harry and Meghan Markle. They enjoyed a wonderful afternoon of fun and games in the sunshine.
Enjoying our visit to Chirk Castle.
RMG had a lovely time on their spring walk to Croxteth Park.
We all made a salad with Michaela from Apple of My Eye.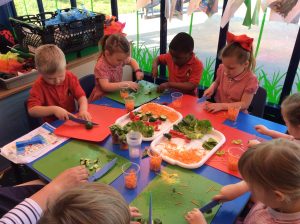 RHG enjoyed their spring walk to Croxteth Park.
Spring Term 2018 
We enjoyed an exciting visit from Bowland Farm today.
The children were very excited when builders came in. They can't wait for the new water pump and slides to be ready!
RH made some lovely cakes for Little Red Riding Hood's Grandma.
RMG made some wonderful wooden spoon characters on World Book Day.
RHG enjoying the snow.
Snow angels, snowmen and snowball fights in RMG.
Do RMG run faster when they're superheroes?
The Children's Centre came to visit with lots of musical instruments. They delivered a Musical Movers session. It was fun!
RHG love their PE lessons.
RMG enjoyed their winter walk to Croxteth Park.
RH had a wonderful time climbing, running, swinging and playing in the mud on their winter walk too.
Back in school they have been acting out their Talk for Writing story.
You can see RHG also had great fun on their winter walk.
RMG
learning how to balance and use equipment safely. They had a fun yoga game to cool down.
Autumn Term 2017
Learning how to make patterns for our Maths Mastery topic
Having fun in our new outdoor classroom
Learning about our senses
Halloween fun
Autumn walk to Croxteth Park
Pudsey Party – Raising money for Children in Need
Click on the links below to access maths materials for Reception children (opens in a new window).
Digit-Cards-With-Spots-Ten-Frame-to-20 (1)
T-N-105-2D-shape-word-mat_ver_2
T-N-305-count-the-spots-flash-cards-1-10_ver_1
T-T-7536-The-Very-Hungry-Caterpillar-Number-Lines-0-20