Class 5S
Welcome to class 5S
Our class teacher is Mrs. Smith and our teaching assistant is Mrs. Chisam.
Spring Term
Week of 01/04/2019: Chicks
Week of 01/04/2019:  Martin Mere – Learning about otters and their habitats, our imaginary animals and their adaptations to their habitats.
Week of 25/02/2019: Science – Today we measured the force of gravity using Newton meters
Week of 11/02/2019: Art
Week of 04/02/2019: Children from Year 5 enjoyed reading stories to some Ellergreen Nursery children
Week of 28/1/19: Our Music lesson involved us learning to perform 'Songbird' through guitar, keyboard, drumkit and singing.
5S Computing, learning about encryption- morse code
Autumn Term 
Some of our year 5 science high flyers visited St. John Bosco to study the heart and circulatory system.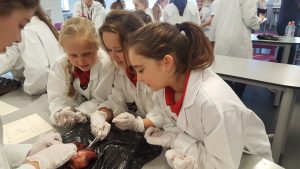 5S have been learning Maths through football.
Making sculptures of the giants that visited Liverpool.
Learning a new dance routine.
Some of the children in year 5 did Swim Safe training down at the Albert Dock.