Welcome to Year 2 Class 1 (Mrs Grice)
Click on the logos below to get onto the different apps
Times Table Rockstars (TTRockstars)

Numbots
Bug Club
Lexia – This is only used if you have been given an account for this app
Teacher Talk
What's going on in Year 2…
January 2021 – March 2021
Remote Learning – our fantastic children in Year 2 have blown our socks off with the work they have done while in Lockdown.
Celebrating Reading 1st March- 5th March (featuring World Book Day 2021)
8th- 15th March British Science Week 'Innovating for the future'
December 2020
Christmas Presentations
Nothing could stop us from making sure we performed for our Monksdown families..even if it was a bit different this year.
Winter Art
Year 2 investigated blending with different mediums like chalk, pastels and water-colours.
Santa Visit
It looks like Year 2 were most definitely on the good list this year…
November 2020
The Land of Make Believe
Year 2 read the story 'The Jolly Postman' and it took us on a very unexpected road to visits from wolves delivering letters, creating maps to tell stories, innovating with post-its, using technology to help us write and becoming experts in all things fairy tale! If you think we are exhausted…you'd be wrong. Year 2 are just getting started! Watch the video to see some of our work…
Body Building
2.1 investigated the impact different exercises have on our health
Today 2.1 observed how different their body felt after exercising as part of our science lesson on keeping the body healthy. pic.twitter.com/ce508yLAzG

— MissCGrice (@MissCGrice) November 30, 2020
October 2020
Chef-tastic
We became seasonal chefs in October and learned more about where out food came from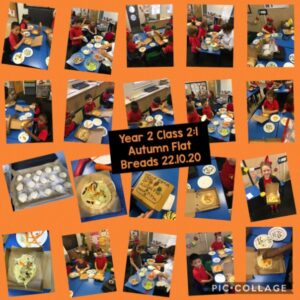 September 2020
Journey
We took part in a writing project in September based on the book 'Journey'.
'Me' in a bag'
We discussed what made us special and unique