More Able and Talented at Monksdown..
More able and Talented Policy.
Our Vision
At Monksdown Primary we pride ourselves on being an inclusive school.
Monksdown's vision is to provide the best education to all our students and to support all of our children academically and emotionally. At the heart of this vision is the need to provide the necessary foundations for all student to reach their full potential. For More Able and Talented children this requires careful assessment, planning and reviewing of all provision in order to facilitate their success. Successful provision for the most able students provides not only inherent value in the terms of enabling More Able and Talented students to pursue their interests and areas of expertise, but also the foundations of improving the number of students achieving above the expected standard at the end of KS1 and KS2.
Mrs Ferrigan and Mrs Campbell are our More Able and Talented leads and are available if you have questions or concerns. Please ring the office to make an appointment.
At Monksdown

enrichment

activities are provided to offer broader learning opportunities beyond the normal curriculum and to utilise the skills and expertise of others both within and outside the school community. Access to extra-curricular activities will enable pupils to:
Engage in work which draws on the content of different subjects

Gain opportunities to work with similar More Able and Talented pupils
Enrichment in action
Chess
At Monksdown, we are extremely lucky to be in partnership with Chess in Schools. Children are taught by one of their trained tutors, progressing from the rules of the game to foundational tactics and strategy over the year. They acquire a life-long skill, opening up an affordable and enjoyable game of limitless depth.
Sporting competitions.
At Monksdown, we have a variety of sports teams who attend competitions across Liverpool. Our sporting superstars are all enthusiastic about their sports and are fantastic representatives of Monksdown Primary School.
Please see our Sports Teams and Competitions page for more information and regular updates.
High Flyers with St John Bosco – March 2022

Our Year 4 Maths High Flyers attended another amazing session at St John Bosco. This time the children worked with other schools to investigate who had the most expensive name. Each letter was given a value (i.e A=1 and Z=26) and they had to find the value of their name. The children also talked about factors, multiples, square numbers and had to give some examples of each type of number! Then they did some problem solving in their groups.
Maths Chefs – Spring term
KS1 Maths chefs have been creating their own pizza shop. They have been reading recipes and using their mathematical knowledge to work out how many people their recipes would feed. The children also used their knowledge of money to help pay for ingredients. When designing their pizzas, children were also re-introduced to fractions. Finally our chefs set up their own pizza shop for KS1 staff members. They had to sell their items to staff members, pricing up totals and working out change.
KS2 Maths Chefs have been reading and altering recipes to feed more or less people. The children have also been reading scales and measuring when bringing their delicious recipes to life. In addition, the children have been reading price lists, ordering and paying for stock. Finally our chefs set up their own deli for KS2 staff members. They had to sell their deli items to staff members. Pricing up totals and working out change.
After all the bills were paid, our Maths Chefs raised £120 and were very proud of themselves, as they should be.
A big thank you to Apple of My Eye, who ran our Maths Chef clubs.
High Flyers with St John Bosco – November 2021
Some year 4 were very lucky to be invited to take part in St John Bosco's High Flyers programme. Held over two seperate afternoons, the children took part in a series of English or Maths challenges.
During the English session, the children studied the poem, 'These are the Hands' by Michael Rosen about the NHS. They analysed the title and discussed the meaning of the poem. One of the children said ' hands can help the world!' another said they believed that the 'NHS are selfless for others'. After discussing the poem the children analysed technical aspects of the poem.
The children also read the short story 'Lamb to the Slaughter' by Roald Dahl. The gave examples of simple and compound sentences with conjunctions, then answered some comprehension questions about the story.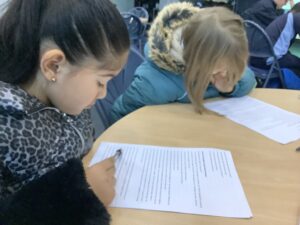 Maths Session: