News
12th October 2018
A HUGE thank-you to everyone who sent in food for our harvest celebration. All over the school there were bags…More
---
1st October 2018
Here are our Monksdown Cross Country runners, warming up and preparing to do us proud!
---
1st October 2018
WHAT IS WOW? WOW IS LIVING STREETS' YEAR-ROUND WALK TO SCHOOL CHALLENGE Pupils record how they get to school each…More
---
18th June 2018
Three of our children appeared on BBC News to talk about the Peter Pan statue in Sefton Park.
---
11th June 2018
Year 2 had a water fun afternoon to celebrate the end of their SATs. Well done to all the children…More
---
7th June 2018
The internet safety team did a presentation for our KS2 pupils about keeping safe when using the internet. The Google…More
---
7th June 2018
Children and parents were surprised when Liverpool legends from the Former Liverpool Players Association, Alan Kennedy and Ian Callaghan, visited…More
---
23rd March 2018
Click on the link below to open our recent OFSTED report in a new window. …More
---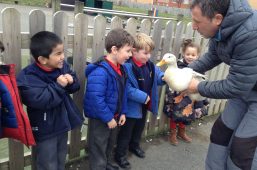 21st March 2018
The children in KS1 enjoyed a wonderful hands-on farm experience with the farm animals that this mobile farmyard brought to us.…More
---
8th March 2018
The Church Army from St. Christopher's church visited our school to talk about  Resilience, which is one of our school values.…More
---